Posters
1981-2012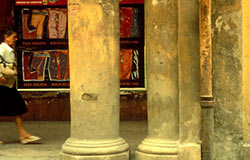 In the early 1970s Fels completed a series of collages in Italy from remnants of wall posters gathered from the streets. Fascinated by what happened to the posters as they aged and oxidized outside, he returned to Rome in 1978 to record images for a synchronized photographic slide piece merging the forms and colors of the poster papers. He performed these slide pieces at several venues on the west coast, and formed the group See-Through (his first active collaboration) to produce slide/tape performances with other Seattle-based photographers.
In 1985 Fels moved with his family to Bologna, where he lived and worked for two years thanks to a Fulbright Fellowship. Fels was given the fellowship to carry out a poster project in Bologna's historic center. Every day, the city's poster hangers (working for the post office) put up Fels's posters (always side by side) throughout the city center.
Each day Fels was given a list of where the posters had been placed. The following morning Fels set out on his bicycle equipped with drawing, collaging and painting supplies, visiting each site and altering at least one of the posters.
Returning to photograph the alterations later in the day, Fels soon found that the altered posters were being systematically removed. They were being collected! Eventually, Bologna's Museum of Contemporary Art located Fels - an exhibition at the museum followed.