Donald Fels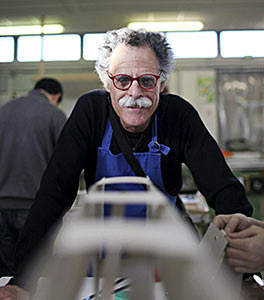 Visual artist Donald Fels is active in the U.S., Europe and Asia. Fels has been a Fulbright Fellow to Italy and a Fulbright Senior Research Scholar to India. He has twice received funding from the National Endowment for the Arts. He is a grant recipient of the Jack Straw Foundation, 4Culture, Artist Trust, the Ferguson Foundation, the Goodfellow Foundation, the Washington Council on the Humanities, the Ella West Freeman Foundation, and the Northwest Institute For Architecture and Urban Studies in Italy. He was a Whiteley Fellow at the University of Washington Friday Harbor Marine Biology Laboratory from 2002-06. Fels has received multiple grants and commissions from the Seattle area arts commissions.
The Washington State Arts Commission recently purchased an entire series of paintings he completed in South India, for permanent installation at University of Washington Tacoma Honors College. Fels' work has been exhibited at museums including the Seattle Art Museum, Center on Contemporary Art, Cultural Development Authority Gallery, Tacoma Art Museum, Bellevue Art Museum, Henry Art Gallery, NW Museum of Art and Culture, Bologna's Contemporary Art Museum, Iron Gallery at the University of Washington Tacoma, Bank of America Gallery, Snoqualmie Valley Historical Museum, Boston's Institute for Contemporary Art, Penang Museum, and at State University of New York (SUNY) Potsdam, University of California at Los Angeles (UCLA), University of Puget Sound, Lewis and Clark College, SUNY Plattsburgh, Bellevue College and University of Washington.
He has inaugurated artist residencies at and for Seattle's Museum of History and Industry, the Steven Holl designed Bellevue Art Museum, the City of Hope Cancer Research Hospital in Los Angeles, and in 2007 was the first visual artist in residence at Seattle's venerable Cornish College for the Arts. Fels has undertaken a number of projects worldwide that have explored ideas through work in a wide range of media, in museum exhibitions, installations, and in book manuscripts. He started painting and creating collages as a boy, began showing his art in galleries in the 1970s. He has completed major public pieces on the West Coast- including "Six Pitches" for Safeco Field, home of the Mariners Baseball Club. His "Drawing on the River", a 36' steel sculpture, was recently installed in Portland, Oregon. In 2010, he installed "Water Plant", a kinetic fountain for the City of Seattle.
Since 1995, he has been a trustee of the Henry Art Gallery, the contemporary art museum at the University of Washington. He has written about art and culture for The Seattle Times, The Seattle Post-Intelligencer, The Seattle Weekly, City Arts, The San Francisco Chronicle and the Los Angeles Times. He writes for Arcade, the NW journal of Architecture and Design, where as guest editor he produced an issue called "The City of Ideas", and for the on-line journal crosscut.com. In 2011, he had a large exhibition at the Chicago Cultural Center and an installation, with his wife, architect Patricia Tusa Fels, as part of Prospect 2, the American Biennial in New Orleans. He also exhibited painted constructions at Du Mois Gallery in New Orleans.
His "What is a Trade?"- a museum exhibition completed with sign-painters in India has been touring since 2008. Fels was artist in residence at the SUNY Plattsburgh campus where the exhibition was featured at their university art museum in 2012. While there he interacted with 15 different classes from four university departments. He has collaborated with a broad group of scientists, many academics, other visual artists, poets, playwrights, architects, engineers, musicians and composers. His work is in collections worldwide.
His most recent public sculpture, the kinetic "Water Plant" was done in collaboration with engineers at Seattle's Water Treatment Plant. Fels had never worked with water before in his sculptures, but working successfully with the engineers allowed him to develop an entirely passive system that animated the kinetic sculpture, while mimicking the process for treating waste-water at the facility. He prides himself on being a good collaborator, and finds working with others fascinating.
His "Six Pitches", done for Safeco Field, was a collaboration with the pitching staff of the Mariners. His "Geo-slice" was a collaboration with renowned USGS geologist Brian Atwater. For "Drawing on the River" in Portland, he collaborated with a third generation steel fabrication firm on the site of the sculpture itself. Their experience was heavy industrial fabrication, and they had never before worked with an artist. For the small community of Courtland Place in a neglected area of Seattle, Fels's research unearthed information that the site had been a refuse dump in the 1920s. He was able to use this information to create Seattle's first and only urban archaeology dig, completed with a 4th and 5th grade class from a nearby elementary school, with the assistance of 15 Ph.d archaeologists from the University of Washington's Burke Museum. The Burke, and its curator of public archaeology, Dr. Peter Lape, are now partners with Fels on the project Waterlines, about Seattle's natural shoreline: www.burkemuseum.org/waterlines.
In 2011 Fels created "Everything", an exhibition on the reach of Sears for the Chicago Cultural Center. In 2012 he returned to Chicago as artist in residence for a project involving the city's trees. In 2013 he was In-Situ artist in residence in Paris, where he developed a museum exhibition based on Empress Josephine's rose garden. His residency was under the auspices of Foundation 93 and the French government. He was the first non-French artist in the decade-long program. With playwright Mark Jenkins, Fels continues collaboration on a play he conceived based on research he completed in Cambodia. Seattle's ACT Theater will produce the play, "Red Earth, Gold Gate, Shadow Sky", in its 2014 season.
He holds a B.A. in Art, History and Literature from Wesleyan University, and an M.A. Ed. with Honors from City University where he was the Board of Governor's Presidential Scholar. He also studied at the San Francisco Art Institute and the University of Washington.
Awards and Honors
2013

in situ artist residency, La Culture et L'art au College, Seine-Saint-Denis, France. First non-French artist invited to participate in the program.

2012

Five regional and national awards for installation at Milepost 31 exhibition, Seattle
Northwest Institute for Architecture and Urban Studies fellow in Civita, Italy
Peer-review panelist for Fulbright Fellowship to India, US State Dept, Washington, DC

2011

Keynote speaker, "Artist as Researcher", Sears Roebuck + Co. Annual Meeting, Chicago
Peer-Review Panelist for Fulbright Fellowship to India, US State Dept, Washington DC

2010

Peer-Review Panelist for Fulbright Fellowship to India, US State Dept, Washington, DC
Named Writer in Residence, Jack Straw Foundation, Seattle
Speaker, Seattle University and University of Washington, Bothell

2009

Artist in Residence, Cornish College for the Arts, Seattle
Two grants from 4 Culture, and a Grant from Humanities WA to develop exhibition on the missing town of Snoqualmie Falls

2008

Consultant and Lecturer, Simpson Center for the Humanities, University of Washington

2007

Two American Institute of Architecture National Awards, American Library Assoc National Award, Ballard Library

2006

Panelist, 4Culture and Seattle Art Commission

2004

Fulbright Senior Research Scholar, India
Purchase of entire "West in the East" exhibition by WSAC for installation at U/W Tacoma
Whiteley Fellow, University of Washington Friday Harbor Marine Laboratory

2003

Whiteley Fellow, University of Washington Friday Harbor Marine Laboratory

2002

WA Council on Humanities grant
Two Special Projects Grants, King County Cultural Resources
Ferguson Foundation grant

2001

Whiteley Fellow, University of Washington Friday Harbor Marine Laboratory
Individual Artist Grant, King County Dept of Cultural Resources
Juror, King County Design Team Roster & Seattle Arts Commission Potlatch Trail
Featured speaker, Antioch University and Cornish College for the Arts- "Artist as Researcher"

2000

Featured speaker, Bellevue Art Museum Annual Board Mtg- "Artist Residencies"
Keynote address, "Trading Stories", Puget Sound Social Studies Educators Conference
Featured artist, "ILVA Bagnoli: Passato/Futuro", Naples, Italy

1999

Keynote speaker: "Community Resources for Collaborative Art Projects in Schools", SAC
Recognition for 'outstanding contribution to area heritage'- Alki/Duwamish Cultural Trail, Association of King County Historic Organizations

1998

Arts Angel Award, Alki/Duwamish Culture Trail, Arts West
Juror, Naramore Trust Art Portfolio Competition for Seattle Public Schools
Chair, Program Committee, Henry Art Gallery Board of Trustees

1997

Grants from Seattle, King County, and WA State Arts Commissions for completion of "Industrial Fish" for Museum of History & Industry, Seattle

1996

Special Project Grant, King County Arts Commission
Board of Directors, Local Access, Seattle
Board of Directors, Friends of Gas Works Park

1995

Panelist, Cheney Cowles Museum, "Understanding Hanford, Looking to Art for Answers"
Artist Support Fellowship, NEA and Jack Straw Foundation
Keynote Address: "Art, Social Science and Science - Critical Thinking" Jackson School of International Studies, University of Washington
Board of Trustees, Henry Art Gallery, University of Washington

1994

GAP Grant, Artist Trust
Featured artist, panel presentation, "Crossing Media Boundaries", Seattle Art Museum

1993

Two grants from the Bellevue, WA Schools Foundation

1992

Organizer and moderator for panel discussions on art @ "Italia", Seattle
Founding President of the Board of Directors, REFLEX Magazine

1990

N.E.A. Grant for "In-Transition"
Art Advisor, University of Washington Medical Center

1989

Juror, Individual Artist Grants, King County Arts Commission

1987

"Visionary Seattle", Seattle Arts Commission

1986-​1985

Fulbright Fellow, Italy

1984

Individual Artist Grants, King County Arts Commission

1978

Individual Artist Grants, King County Arts Commission
Selected Recent Exhibitions and Installations
2013

"Women at Work", installation at Samammish City Hall, WA
"The Rose, abstracted and in scent", Neuilly sur Marne (Paris), France

2012

"Circles and other Projections", Davidson Galleries, Seattle
"What is a Trade" at Museum of State University of New York (SUNY) Plattsburgh
"History Wheel" created for and installed at Milepost 31 exhibition, Seattle

2011

"House/Atlas", installation for Prospect 2, New Orleans Biennial, with Patricia Tusa Fels
"Vestige", exhibition of constructions, DuMois Gallery, New Orleans
"Sears at the Center" exhibition, and "Everything" an installation at Chicago Cultural Center
"What is a Trade" at SUNY Museum, Potsdam

2010

EPICENTRO Project artist, Bienniale Architettura Venezia
"Vanishing Point", paintings completed in India, Bellevue College Art Gallery
"Water Plant", kinetic water sculpture installed in Seattle for the City of Seattle
Girona Print Project, completed in Girona, Spain, exhibited at Davidson Galleries, Seattle
"Gone Missing: The town of Snoqualmie Falls", installation researched and curated by Fels with grants from 4culture & Humanities WA for the Snoqualmie Valley Historical Museum

2009

"What is a Trade? Donald Fels and Signboard Painters of S. India", Hoffman Gallery, Lewis and Clark College, Portland, catalog published by U/W Press, organized by the Tacoma Art Museum
"Drawing on the Wind", permanently installed sculpture for Portland commissioned by RACC
"Windows In", group exhibition Seattle Art Museum Gallery

2008

"What is a Trade? Tacoma Art Museum
"What is a Trade? NW Museum of Art and Culture, Spokane
"If Your Kit contains a mirror, Use It", painting installation, Port Angeles Fine Art Center
"Outsourced", paintings completed in India, Iron Gallery University of Washington Tacoma Gallery
"Mapping", Davidson Galleries, Seattle
"Sign", paintings and collages, Wall of Sound, Seattle
Installation, "Drawing on the River", 36' steel sculpture commissioned by City of Portland, OR

2007

Exhibition, Kashi Art Gallery, Cochin, India

2006

"Weather Permitting" and "Flow" with Andrew Schloss and Dale Stammen, Ballard Public Library
"Crossroads", Collaboration with WET theatre group and Carl Smool, initiated by Fels at Crossroads Bellevue
"Outsourced": Donald Fels in India, Davidson Contemporary, Seattle

2005

"Preview- West in the East", Kashi Art Gallery, Cochin, India

2004

Guest Editor: 'City of Ideas', issue 22-4 of Arcade Magazine
"Looking into Courtland Place", exhibition at Museum of History and Industry
"West into the East", Vasco da Gama billboard and signs at Suzzallo Library, U/W

2003

"Thinking in Public"- installation with Buster Simpson, Ellen Sollod, Jack Mackie, 4culture gallery
"Looking into Courtland Place", archaeology dig and exhibition in support of artist residency in a marginal neighborhood for the City of Seattle. Fels organized dig with university archaeologists, elementary school and Rainier Valley Historical Society.
"Vasco da Gama", artist residency at Chitraniketan, Kerala, India
"Paragon" sculpture Installed at Terminal 107

2002

"7Ply: Plywood and Memory", audio and sculpture installation at Jack Straw Media Gallery, Seattle
"Voluntary Observers", Inaugural artist residency for the first year of new Steven Holl designed Bellevue Art Museum. Fels led team with composers, optical engineer and computer scientist.

2001-​2000

Artist Residency, Bagnoli Steel Mill, Naples, Italy

1999

"The View from Here", traveling exhibition celebrating the Centennial of Mount Rainier, Fuji Museum, Japan, Museum of Northwest Art, La Conner WA, also Seafirst Gallery, Seattle
"Outward Bound: Art at the Forefront of Intl Exchange", group exhibition, City of Seattle Gallery
"Six Pitches" and "Baseball Metaphors" installed at Safeco Field, Seattle
"Discarded Meaning", collages and constructions, Kittredge Gallery, University of Puget Sound

1998

"Industrial Fish", commissioned kinetic sculpture dealing with farmed salmon: residency with NOAA Museum of History and Industry, installed at Museum of History and Industry, Seattle
"Global Tuna", installed at SeaTac Airport, Seattle

1997

"Le Tonnare", cycle of paintings on bluefin tuna fishery in Sicily, Foster/White Gallery, Seattle
"7Ply : Plywood and Memory", installation, Bellevue Art Museum, Residency w/American Plywood Association

1996

Lead Artist in residence (with Joe Feddersen and Jaune Quick-to-See Smith), Alki/Duwamish Culture Trail, City of Seattle
Organizer/Curator, "From Here to There"- Open Competition for public art proposals exhibition at Bumbershoot, Seattle

1995

"Artist Prints", Davidson Galleries, Seattle
"Artist/Industry Collaborations" - Creator & coordinator of pilot program for artist residencies in Seattle area high tech industries
"The Life Story Project" with Cambodian Refugee families for Asian Counseling Services in Tacoma, WA

1994

"Techno Prints", Rental/Sales Gallery, Seattle Art Museum
"Trading Stories", installation, Tacoma Art Museum
"Shore Viewpoints and Voice Library" (with Gloria Bornstein) in 'Public Interventions', curated by Elearnor Heartney and Milena Kalinovska Institute of Contemporary Art, Boston; also included in 'Lure of the Local', curated by Lucy Lippard, University of Colorado, Boulder

1993

"Donald Fels at Ropewalk", Penang Museum, Penang, Malaysia

1992

"Public Art Worldwide", Yokohama International Art Fair, Japan

1991

"Shore Viewpoints" (with Gloria Bornstein): Installation and interactive voice library along Seattle's central waterfront for 'In Public: Seattle 1991'
"In Public", Security Pacific Gallery, Seattle
"Documents Northwest - 'In Public-1991', Seattle Art Museum
"Coin-Op Diplomacy" in 'Collaborators' (with B.J. Farrar and Carl Smool) curated by General Idea, Tacoma Art Museum Regional Exhibition
"Coin-Op Diplomacy", 'Bumbershoot', Seattle, 1991

1990

"Artist Made Machines", Center on Contemporary Art, Seattle
"In-Transition" (process art on Seattle Metro Buses). Creator, producer, participant and curator of public art project for Goodwill Art Festival involving twenty American and Russian artists.
"In-Transition" exhibition based on the project at: Fisher and Behnke Gallery, Cornish College for the Arts, University of Washington, Bothell Campus, and 'Bumbershoot', Seattle, 1990 and 1991

1989

Michael Dunev Gallery, San Francisco

1988

Shoshana Wayne Gallery, Los Angeles

1987

Ivory/Kimpton Gallery, San Francisco
"Painting and Sculpture "'87", Regional Exhibit curated by Howard Fox, Tacoma Art Museum

1986

"Fels/Felsina" public art poster project in the streets of Bologna Italy under the auspices of the American Academy in Rome and the Fulbright Commission
"Fels/Felsina" exhibit at: Bologna's Galleria d'Arte Moderna (Museum of Modern Art) and Shoshana Wayne Gallery, LA

1985

"Wall Paintings" Foster/White Gallery, Seattle and Stamparte, Bologna, Italy

1984

Ivory/Kimpton Gallery, San Francisco

1983

Foster/White Gallery, Seattle

1982

Davidson Art Gallery, Seattle

1981

Tom Luttrell Gallery, San Francisco & ISC Gallery, University of California at Los Angeles

1980

"Wall Space" (audio-visual performance) at and/or, Seattle

1978

Spazio Alternativo, Rome, Il Fotograma, Rome and Silver Image Gallery, Seattle